Chloe Macklin, who just finished first year at Western and is now home with her parents on Austin Terrace has joined with some friends to help our front line workers during Covid-19.   They are bringing Bottles Against Covid to the Casa Loma neighbourhood.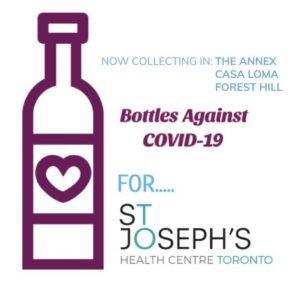 They will pick up and return empty bottles & cans to the beer store, and 100% of money received from bottle returns will be donated to St. Joseph's Health Centre COVID-19 Relief Fund.    St. Joe's is a highly respected hospital that many of us consider as a great alternative to the downtown hospitals.
Logistics are simple: Once you have collected enough empty bottles / cans to fill a bag or box please fill out the link below.   Their pickup will happen TOMORROW between 1-4 pm (but please fill out the form as they need to know addresses for pick up!)   Simply place the box or bag on your front porch and they will come and collect it!   CONTACTLESS COLLECTION, OF COURSE!   Chloe's group will be collecting in the Annex, Casa Loma, and Forest Hill neighbourhoods.
Please support this Casa Loma community initiative and share this with anyone you can in our neighbourhood!   The more people we can reach, the more bottles Chloe and her friends can collect in support of the COVID-19 relief efforts at St. Joe's!
Click on this LINK for pickup.