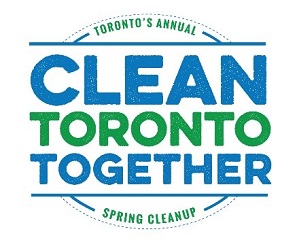 THIS YEAR'S EVENT IS POSTPONED UNTIL FURTHER NOTICE BECAUSE OF COVID-19 RESTRICTIONS
---
On April 27, 2019  the Casa Loma Residents Association participated in Toronto's 16th Annual spring cleanup – Clean Toronto Together.
Twenty two hardy volunteers, including 3 generations from one family (a grandmother, mother and daughter) braved the chilly weather to clean Wells Hill Park, the Nordheimer Ravine and Casa Loma Parkette of refuse that had accumulated during the winter, and in some cases had been there for many more months. All together we accumulated 26 bags of garbage. One outcome is we're going to be asking the City to install cigarette receptacles at the picnic benches in Wells Hill Park as we obviously have heavy smokers who use the park.
Later in May when the ground is drier and more stable we will complete the clean-up of the slope below the walkway that connects Connable Drive with Walmer Road. If you are interested in helping in this second phase please please email us and we will stay in touch.
A great big thanks to all for making this community effort possible.