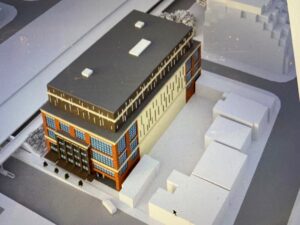 The CLRA has prepared a critique of the proposed 9 storey self-storage building proposed for the lands centered where the coin wash is located on Bathurst St. just north of Dupont (1109 Bathurst St.). We are concerned that it will discourage, if not sterilize, the whole front part of Dupont in that area and the streets surrounding it from future residential intensification. This will be Canada's tallest self-storage building upon completion. Raising 9 storeys and encompassing 160,000 sq. ft.
Some points raised in our critique:
The 20 meter north portion of the property (Part 2) is zoned IC industrial and allows for a self-storage building but only to a maximum height of 14 meters (45.9 feet). This would be similar in size to the self-storage building at 1120 Dupont St. which is within the industrial section of Dupont St.
This property is not included within the Dupont Street Regeneration study and does not merit receiving any of the accommodations that were provided to the sites along Dupont.
Any building that is built along the rail line can be expected to have significant impact on reflected rail noise to the long-established residential communities to the north.
The extra height and controls that were negotiated for properties fronting on Dupont were intended to create mixed use including residential and new types of employment critical to Toronto
The CLRA has been engaged with residents on Austin Crescent and Lyndhurst Court as well as the Tarragon Residents Association and the Annex Residents Association to take our concerns to Councillors Matlow and Layton before the Application is submitted to the Toronto & East York Council. The CLRA critique can be obtained HERE. Documents filed with the City related to the application can be accessed HERE.