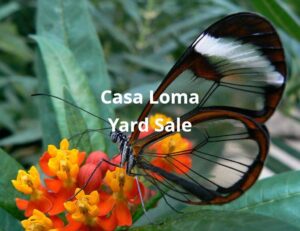 The Casa Loma Yard Sale is an event organized annually by Cheryl Millet, a neighbour on Nina St.  Due to popular demand, this year will see a second yard sale!!
The 16th Yard Sale will take place on Saturday October 1, 2022 from 10 am to 2 pm. Get on Cheryl's email list by contacting her at .
If you are new to our yard sales, everyone hosts their yard sale in their own front yard or garage. 25-35 houses participate around the neighbourhood.
For Participants
READY! SET! SELL! Have fun!
MAPS of garage sale locations will be delivered to participants on Friday June 3rd.
BALLOONS and some string will be included. Tie to a chair/post/recycling bin and leave on sidewalk so walkers/drivers can see at a distance. It works.
Start before 9 am. Sell longer than 2 pm if you wish or close up sooner if you have to…there are no rules. Signage will come down between 3-4 pm.
Fee is $5 to participate for advertising in the Toronto Star, cost of printing, signage, etc. DROP off monies to Cheryl at 5 Nina, mailbox is fine with your name and address on the envelope. Thank you.
Feeling Lighter already? Yard Sale Tips! click here
Tips: Downsizing…perhaps. Just cleaning house…maybe. Here is a website that gives 10 tips. http://www.styleathome.com/homes/real-estate/top-10-tips-for-downsizing/a/308
Prices: Search on Kjiji or Craig's List for ideas on how much things are going for.
Remember this is a yard sale and people are looking for bargains but anything is possible…participants have sold nice things for $100s but still a bargain to purchaser. WIN WIN
Prepare: Coins and small bills are required. Keep in your pockets or use a fanny pack.