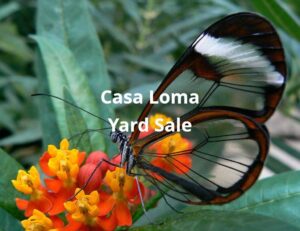 The 17th Annual Casa Loma Yard Sale was held this year on Saturday September 12th, 2020. The date was postponed from the usual June date because of Covid restrictions in effect at that time.
Participants  were advised on social distancing, sanitizing , packaging and mask wearing as recommended by Toronto Health.  A yard sale has fewer issues compared to farmers markets which have been operating during the summer.
This year a record 34 homes participated, including for the first time homes on Castleview, Walmer, Melgund and Lyndhurst Court.