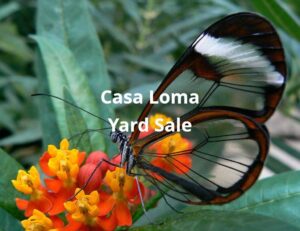 The Casa Loma Yard Sale is an annual event organized by Cheryl Millet, a neighbour on Nina St.
This year 31 homes participated in the 14th Annual Yard Sale  on Saturday September 11th. Thanks to the organizing of Cheryl and her volunteers, 250 posters were posted around the area, 300 flyers went to neighbours who are not on the yard sale emailing list, 19 road signs were placed to help drivers/walkers enter our neighbourhood and 900 maps were printed to help visitors navigate the sales. Lots of decluttering took place and many homes took the opportunity to raise money for their favourite charity.
The 15th Annual Yard Sale will take place on Saturday June 4, 2022. Get on Cheryl's email list by contacting her at .