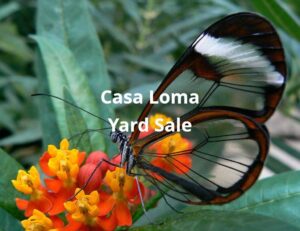 The 13th Annual Casa Loma Yard Sale will be held this year on Saturday September 12th, 2020  between 10 AM and 2 PM.
(Participants can extend their hours if they wish)
This is our new date postponed from June because of Covid-19 restrictions.
In the past, 25-35+ houses have participated, many donating the proceeds to a favourite charity.  Once again, Cheryl Millett will be organizing the event, including publicity through Kijiji and other web sites and newspapers and the posting of directional signs and printing of maps.
Email Cheryl Millett if you are interested in participating or volunteering and if you would like tips on how to organize a successful yard sale.  Advance notice is needed to prepare the posters, maps and advertising inserts. 
To cover costs, a fee of $5 per participant is charged.  You may drop off your fee to Cheryl at 5 Nina Street or use INTERAC e-transfer through your on-line banking app.
Cheryl's email is
Rain date is Sunday September 13th .