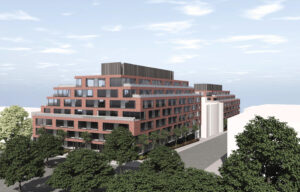 The CLRA has joined with the Tarragon Village Community Association (our neighbour to the south) and the Habayit Shelanu Senior Residence in objecting to developments proposed on Kendall Avenue just south of our community.
A developer, Zinc Developments  is proposing to build two 8-storey residential buildings;  one at 555 Davenport  having a gross floor area of 10,906 square meters, and containing 134 residential dwelling units and another at 500 MacPherson having a gross floor area of 11,572 square meters, and containing 135 residential dwelling units. The properties are currently owned by George Brown College and the development requires Official Plan and Zoning By-law Amendments.
The CLRA has no issues with the principle of converting the existing properties located at 555 Davenport Road and 500 MacPherson Avenue which are currently zoned industrial education, to residential but we do have concerns regarding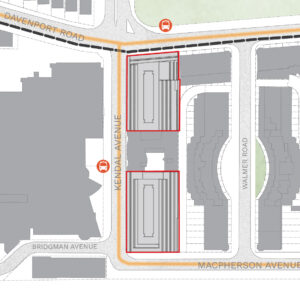 excessive height, need for setbacks from the Habayit Shelanu seniors residence, the potential heritage significance of 555 Davenport, the preservation of views to Casa Loma, to the Lake Iroquois escarpment, the preservation of City and skyline views from the Baldwin steps, Casa Loma and public streets on the escarpment as well as the potential need to preserve parking for George Brown students and staff and the overflow parking required when there are events at Casa Loma.
Documents submitted by the developer for Official Plan and Zoning By-law Amendments
Development Application for 555 Davenport Road
Development Application for 500 MacPherson Avenue