The Jane's Walk Festival will still take place in 2020 from May 1 to 3.   However, all walks have been cancelled because of Covid-19 restrictions.
One of last year's walk leaders, Jonathan Spencer, has been working on a book about the history of our Casa Loma neighbourhood.  We will keep you posted on its availability through this website and our neighbourhood emails.  We will be participating once again in 2021.
Keep up to date on alternative commemoration events for 2020 at www.janeswalkfestivalTO.com
---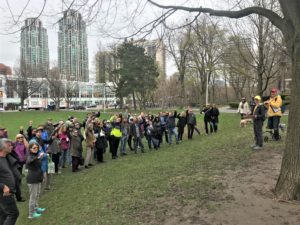 On Saturday May 4th, 2019 nearly 80 people gathered at Wells Hill Park for the first ever Jane's Walk organized by the Casa Loma Residents Association. Participants broke into two groups and enjoyed the stories and good humour of our two walk leaders, local residents Cheryl Millett and Jonathan Spencer. They led the walkers through our neighbourhood, stopping at landmarks to recount stories of the Macleans, Neilsons, Dinwoody's, Pellatt's, Lennox's, LePage's, McLuhan's and of course, Ernest Hemingway, among others.
Our Jane's Walk was one of hundreds of walks that took place around the world from May 3rd to 5th.  They honored  the ideas of Jane Jacobs.  Jane Jacobs (1916-2006) was a writer, urbanist and activist who championed the voices of everyday people in neighbourhood planning and city-building.
Many thanks to Cheryl and Jonathan for organizing such a successful event that brought people into our neighbourhood from many parts of Toronto.