The City of Toronto has engaged WSP Global Inc. to study and address traffic and parking congestion in the Casa Loma neighbourhood generated by special events at Casa Loma.
The study area, as shown on the map  below,  is bounded to the north by St Clair Avenue West, to the west by Bathurst Street, to the east by Avenue Road and to the south by Dupont Street.
A drop-in event will take place:
Tuesday November 6, 2018
6pm – 8:30pm
Toronto Archives Building
The City and WSP would like to hear from area residents about our neighbourhood traffic conditions. We encourage you to attend the upcoming drop-in event to learn about the study and provide your input.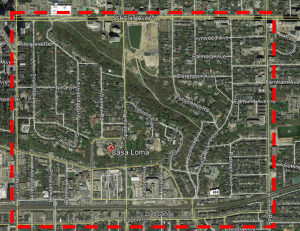 map provided by WSP Global Inc.