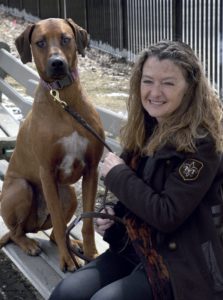 The local group headed by Laura William has secured the support from Councillor Josh Matlow for further study by City staff of the improvements they want for the relocated dog off leash area  (DOLA) at Sir. Winston Churchill Park.
This group has been working diligently to address the shortcomings in the proposed plan for the dog park announced by the city in February.   At a meeting on June 7th, Councillor Matlow asked staff to respond to a list of written questions submitted by the group.
Specifically
Enlarge the park by extending it under the Spadina Bridge and up the slope to Spadina Rd. instead of the proposed size of about 44% of the original DOLA.  (2,022 sq. meters compared to the original 4,585 sq. meters). The original DOLA was often at capacity and with the population of dog owners in the area growing and with the anticipated new density from the new apartment towers at Bathurst and St. Clair, a much smaller area would be dangerous and would lead to spill-out outside the park
By extending the park up the slope to Spadina Rd., the DOLA will become accessible to owners with mobility issues. As proposed by city staff, the park will not meet Provincial requirements for accessibility. Accessibility is being actively supported and encouraged by the City.
Further,  extending the park up the slope to Spadina Rd., will also address another problem with  accessibility. The only access to the park as proposed by the city staff will be through the Nordheimer ravine, from the pathway that runs from St. Clair near the subway to Bolton Drive in the east or down the steps from the corner of Russell Hill Drive and Spadina Rd.  Neither the steps nor the pathway are maintained by the city during the winter. Further, the pathway has minimal lighting making it a safety issue for after dark usage.
Plant trees, use wood chips on the surface and add additional amenities to make the park more attractive to users.
The proposal to extend the DOLA under the Spadina Bridge and up the slope to Spadina Rd. would not encroach on the environmentally sensitive Nordheimer Ravine.
In its efforts the group has been supported by Eric Code, founder of the Toronto Dog Park Community.
For further information, contact Laura William through Dogs of Sir Winston Churchill Park.