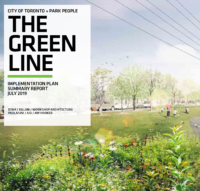 City Parks has released a blueprint for a five km-long connected park and open space to be called the Green Line.
By connecting existing parks, parcels that are available to become parkland and pathways, the Green Line will open up an attractive walking corridor between our neighbourhood and the Corso Italia neighbourhood on St. Clair just west of Earlscourt Park.
One of the connections is the stretch along the hydro corridor between Bathurst and Spadina Rd. which is currently used as parking lots for George Brown College and visitors to Casa Loma. The plan shows an attractive upgrading of the sidewalk in front of the parking lots.

This is a 10 year project that is expected to begin next year.